Overview
When using Outlook or Outlook Web App (OWA) in an Office 365 or Exchange environment, you can track the message from the client side.  Both Outlook and OWA allow you to view a delivery report in order to confirm a message was delivered when the recipient claims they have not received it or if it's taking a long time to deliver.  Delivery reports work for both internal and external recipients.
View a Delivery Report in Outlook
In Outlook, go to your Sent Items folder
Locate the message you want to track and open it
Click File, click Info, and click Open Delivery Report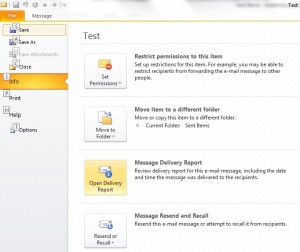 View a Delivery Report in Outlook Web App (OWA)
If you are using any other email client than Outlook (mobile device, OWA, etc), you can use OWA to view a delivery report.
Login to OWA at https://portal.microsoftonline.com
Click the Gear Icon, then click Options
Click Organize Email then click Delivery Reports
Enter your search criteria, click Search
Select the email you want to track and click the Pencil Icon to view the delivery report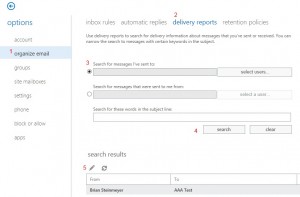 Review Delivery Report
Internal delivery reports will show Delivered upon success delivering.  Also note, Office 365 Exchange only keeps message tracking data for 14 days.

External delivery reports will only show Transferred which means it successfully sent out from your mail server.  However, this does not guarantee the recipient received the email because there can be issues on the recipients email server.